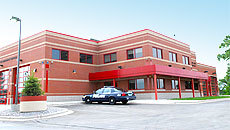 Mdewakanton Public Safety is a full-time, professional fire and ambulance department staffed 24 hours a day, seven days a week. It is the mission of Mdewakanton Public Safety to protect and preserve the sovereignty, self-sufficiency, and image of the Shakopee Mdewakanton Sioux Community (SMSC) while maintaining the business continuity of all Community enterprises. Through this mission, Mdewakanton Public Safety will continually strive to improve its performance by challenging the limits in all aspects of public safety.
As an exercise of tribal sovereignty, Mdewakanton Public Safety serves Community Members, guests, and patrons of the SMSC, and residents of nearby communities by request through mutual aid agreements. Each year, the department responds to 2,000 calls between the SMSC and neighboring cities. In 2018, Mdewakanton Public Safety earned a Class 2 performance rating from the Insurance Services Office (ISO) that ranked them within the top 2 percent of fire departments in the United States.
Several times a year, Mdewakanton Public Safety conducts trainings to enhance readiness. During several mock crashes over the years, staff from Mdewakanton Public Safety trained with the Minnesota State Patrol, the Shakopee police and fire departments, Allina Health, North Memorial Medical Center's Air Care helicopter, and the Prior Lake police and fire departments.
Mdewakanton Public Safety also provides emergency medical training, including Emergency Medical Technician (EMT) training, First Responder training, and American Heart Association Cardio Pulmonary Resuscitation (CPR) and Automated External Defibrillator (AED) classes.
The SMSC is constantly seeking ways to direct portions of its revenues back into the surrounding community. Mdewakanton Public Safety is an excellent example of how the SMSC is reinvesting in the greater community.